We here at Nothing But Tires feel that there is a huge differentiating factor between us and the other tire store competition. Whether you are looking for used tires near where you live, or conveniently located tire shops near you, there are other significant factors when selecting previously owned tires, or new tires. Our tire shop page resource is to educate you in making the right decision when selecting your tires and finding the most reliable safe selection at a budget you can afford. Our humble beginnings of starting in a shed and growing to one of Western Canada's leading tire resources is built on the satisfaction piece of mind of every ecstatic customer we have helped.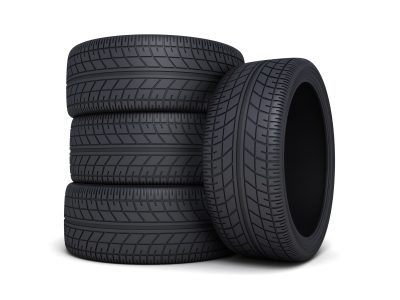 The Tire Shop Quality Process
We carefully select used tires from across Canada and the United States to bring to you. We take it very seriously that your safety is in our hands, here are some of the factors when selecting inventory that ultimately ends up on your wheels, driving you and your family around safely and securely!
The selection and high level of quality control is about ensuring that our tire shop is the best bar none.
Carefully Selecting Used Tire Inventory
We consider the harsh climate of Alberta and focus on performing winter or all season tires
We ensure we carry product for the most popular cars and trucks for our climate
We look at the tire safety ratings on the makes and models of tires we are carefully selecting to acquire
We shop the established and best performing brands
Review traction ratings on the specific tires
We carefully compare tire prices for both new and used to ensure we negotiate and buy our inventory at very competitive rates to share that savings with you!
We have a hands on 20 point safety and quality inspection of each tire we bring into inventory
We also have a water pressure inspection/testing machine to ensure no unseen issues.
How to buy used tires?
Frequentlys asked questions
As you can image we get asked a lot of questions regarding good used tires, here are some of the top questions that we get asked and that you need to know when shopping for new or used or discounted tires at a tire shop:
Can I buy used tires?
Yes we sell good used tires across Alberta and have done so for over 5 years.
Should I buy used tires or new? 
There are many factors in this question, but the short answer is that, carefully selecting a good used tire can save you a very large amount on your investment. Properly curate used tire stock that is recertified and inspected can in some cases last longer than new tires with a significantly reduced cost.
Can I buy used tires online?
We here at Nothing But tires sell online constantly using our website and inventory system, we also offer very affordable shipping rates across Alberta.
How much wear and tear are on those used tires?
The answer is that every individual tire and or set are unique to how long it had been used, what terrain it was used on and the wear from the previous vehicle. We fully inspect, test and consult all our customers as to what wear it has and its life expectancy.
Is there any damage to the tires?
We do not sell damaged tires or used damaged tires as we are committed to offering safe and reliable rubber to our raving fans.
Where to buy used tires near me?
We often get this question and we actually have one major tire shop location that services all of Alberta! We ship across Alberta at an extremely affordable rate.
Where to buy used tires in Edmonton?
Although you have a huge selection of Kijij sellers we are unique in that you can come into our facility, have a snack, deal with extremely knowledgeable staff and have the luxury of selecting from thousands of sets of used tires. This ensures you are given the right fit, the right quality, at the right budget for you. 
How to buy or choose used tires?
When choosing used tires for your vehicle, I would educate yourself as what type of tire you want first, such as all season tires, winter tires or summer tires (our trained staff can help) then go through the varying quality levels and brands that meet your budget and comfort level.
Should I buy used winter tires?
Tires today have advanced to the point in technology and tread design as well as rubber construction components, that it is very acceptable to use an all season tire through out the full winter.
To get the most significant traction though it is best to run winter tires whether they are used or new during our harsh winter weather.
Alberta transportation Information Link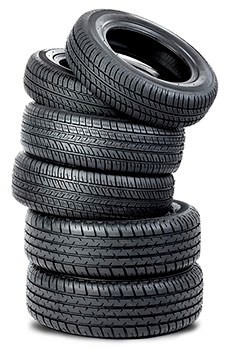 Places that buy used tires near me 
Companies that buy used tires
Another question we always seem to hear is "will you buy my used tires? " or "does your tire shop by used tires?"
To answer that question ,we buy a huge amount of used tire inventory every single month. We make sure every single used tire that we are interested in, is completely inspected and assessed to ensure that it is safe and a viable as used tire to resell. Any tires that we do not use we highly recommend that you recycle them!
Contact us today and discuss your single tire or set of two or a full set to discuss what its likely worth and also what our quality and safety inspection entails to successfully sell your tires to us.
For more information on Tire recycling click here.
Where do I sell my used tires?
We are conveniently located in Edmonton at 14545 118 avenue and in large bulk quantities we have a team of experts who can come to your facility! 
What are the criteria of a saleable used tire?
Is there a minimum depth tread? Or make or brand?
There are many factors related to how viable your tire or set of used tires is for resell from age, to tread depth, to overall wear and tear, we also look at the lining and inside of the tire to look for any unusual stress or wear points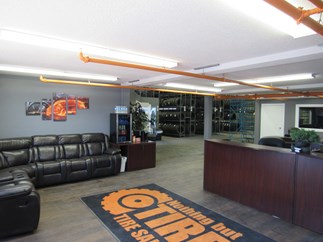 We Consign Tires
We can sell your tires for you!
Feel free to bring in your tires as long as they are still good quality as to keep them in line with the present quality we sell. We will gauge them and come up with a price together that works for both parties. There are NO CHARGES for placing your tires in our inventory.
For any products over $200 put it on layaway and pay it off over a 6 week period.
10% service fee attached to product (Minimum $50)
First deposit – 25% of purchase total
2 weeks from date of purchase – 25% of purchase total
4 weeks from date of purchase – 25% of purchase total
6 weeks from date of purchase – remaining amount
We understand that tires are a need and not a want however there is a need for customers who cannot afford their tires up front to pay it off slowly.
Please understand that any late payments results in forfeiture of all funds. We are a small business and have to be strict on this process.
Additional Features / Benefits :
If your tires are paid off in the first 15 days of starting the layaway plan the 10% service fee will be rescinded from the invoice total.
We hold tires for up to the 15 days with no fees attached as a way to show our customers how much we appreciate their business. We have done this process for a very long time and will continue to do it with no mention of a layaway plan or extra fees. That being said if such remaining payment is not made within 15 days the invoice will automatically become a layaway plan and the 10% service fee will be added.
Can't Find a Tire Store near you? Nothing But Tires sells dozens of tires online and serves all of Alberta with exceptional shipping rates! We serve the following Alberta regions but not limited to: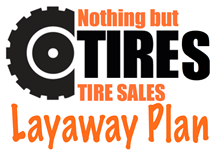 CONTACT NOTHING BUT TIRES
Let us know if you have any questions related to tires, our business, or if you just wanted to say hello!
14545 118 Avenue NW
Edmonton, AB T5L 2M7
MON – FRI: 10AM – 6PM
SAT: 9AM – 5PM
CLOSED SUN